Go Back
Fluorescein Angiography
Fluorescein Angiography is a photographic study of the blood supply to the retina.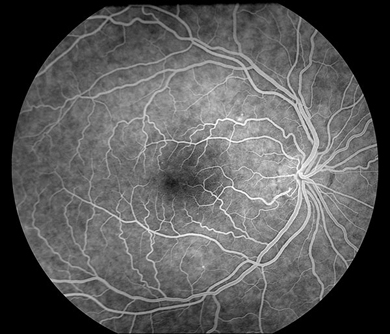 HOW IS THE TEST PERFORMED?
We will perform the test by inserting standard dilation eye drops into your eyes. These make your pupils dilate. You will then rest your chin and forehead against the camera's supports so that your head remains still throughout the test.
Your doctor will then use a specialized camera to take digital pictures of your inner eye. After a series of color pictures are completed, you will be given Sodium Fluorescein dye either as a drink mixed with orange juice or via an injection with a butterfly needle into a vein in your arm. This yellow dye then passes through the blood vessels in your retina. Several more digital pictures will be taken of the blood vessels of your inner eye as the dye passes through the blood vessels. This procedure is used to diagnose many different disorders affecting the retina.
WHY DO I NEED AN ANGIOGRAM?
Dr. Blem may recommend fluorescein angiography to determine if the blood vessels in the back of your eye are getting adequate blood flow. It can also be used to help diagnose eye disorders, such as, macular degeneration or diabetic retinopathy.
HOW DO I PREPARE FOR THIS TEST?
Since the fluorecein dye is sodium based, it is generally very safe. The dye can be used in people who are allergic to shellfish or iodine and can also be used in patients who previously had reactions to contrast dye during radiologic procedures. However, in some rare instances, the dye may cause an allergic reaction and this will be closely monitored during the procedure. Patients who undergo fluorescein angiography may also notice the urine is yellow after the procedure. This is normal and should stop within a day or two.
WHAT TO EXPECT AFTER THE TEST?
There are no restrictions after the test. You will not need time off of work. You should have a driver for the day of the test, however, because you will likely need to be dilated which can cause blurred vision for a few hours.