Go Back
OCT - Optical Coherence Tomography
Optical Coherence Tomography (OCT) is a non-invasive technology used for imagining the retina. It will produce a digital image of cross-sections of the retina.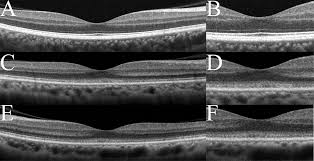 HOW IS THE TEST PERFORMED?
This test can often be performed without pupil dilation. You may be dilated however, if a clinical exam is also performed the same day.
You will sit in front of the OCT machine and rest your head on a chin support to keep your eye motionless. The equipment will then scan your eye without touching it. Scanning takes about two minutes.
WHY DO I NEED AN OCT?
OCT allows doctors to see cross-sectional images of the retina and has revolutionized the early detection and treatment of eye conditions such as macular degeneration, macular holes, epiretinal membranes, vitreomacular traction, macular swelling, and optic nerve damage.
OCT can also be used to track changes in retinal disease by measuring the thickness of the retina quantitatively. Therefore, it can be an important tool in monitoring treatment of retinal diseases, such as diabetic macular edema and macular degeneration.
HOW DO I PREPARE FOR THIS TEST?
Your eyes may be dilated to perform this test. You should be prepared to have a driver to drive you home. You may be sensitive to light for a few hours after your eyes are dilated.
WHAT TO EXPECT AFTER THE OCT?
There are no side effects to the OCT. If your eyes were dilated, however, they may be sensitive to light for several hours after the exam.